LENS MATERIAL, INDEX AND COATINGS
LENS MATERIAL AND INDEX
Plastic 1.5 is the most commonly used index and material
Plastic 1.6 is slightly thinner and lighter than a 1.5
Plastic 1.67 is thinner and lighter than a 1.6
Plastic 1.74 is the thinnest and lightest of all
Trivex/PNX 1.53 is a very light and durable material that we would always recommend using in semi-rimless and rimless frames. This material comes with a 2 year anti-breakage guarantee.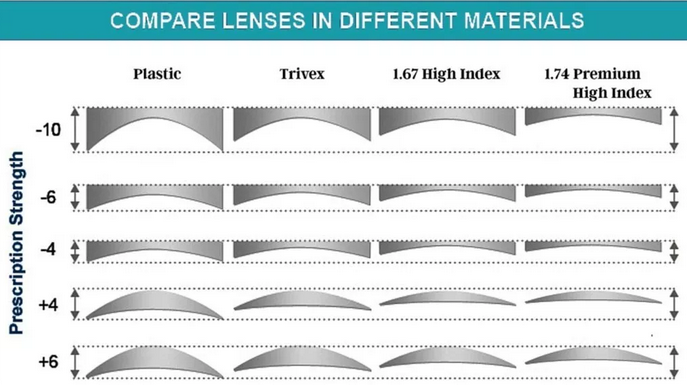 Our experienced staff can do a lens calculation that will allow you to see how thick your lenses will look in your frame and can advise you of the best material to use based on your prescription and frame.
LENS COATINGS
HARD COAT – A basic clear scratch resistant lens coating
AR - Anti reflective coating that gives a sharper image and helps reduce glare whilst driving at night.
SUPER AR – As above, comes with a 2 year guarantee
BLUE AR – Reduces blue light emitted from digital screens, perfect for anyone who uses digital screens throughout the day.
Our experienced staff will advise you on the most suitable coating for your needs.
© Copyright opticalillusion